Delegator-class
Production information
Manufacturer
Product line

Star Destroyer

Model

Delegator-class

Class

Star Destroyer

Cost

38,000,000 credits

Technical specifications
Length

1,500meters

MGLT

70mglt

Engine unit(s)

Ion Engines (7)

Hyperdrive rating

Class 2.0

Hyperdrive system
Power plant
Shielding

KDY ISD-72x shield generator domes (4)

Hull

Titanum Reinforced Alusteel

Sensor systems

KDY ISD-72x shield generator domes (4)

Targeting systems

Equipped

Navigation system

Equipped

Avionics

Equipped

Main computer

Mark-XX Eshan-class Main Computer Core

Countermeasures

ECM/ECCM

Armament

Dual Heavy Turbolaser Turrets (20)
Laser Cannons (30)
Ion Cannons (7)
Tractor Beam Projectors (4)

Complement
Docking bays
Escape craft
Crew

6,850 (90% droids)

Minimum crew

2,000

Passengers
Cargo capacity

16,000 Metric Tons

Consumables

5 years

Life support

Equipped

Communication systems
Other systems

Compact Gravity Well Generator

Usage
Role(s)

Destroyer
Carrier
Interdictor

Era(s)
Affiliation
Designed from plans of the Imperial-class Star Destroyer shared with the Mustafarians from the Free Echani Alliance, the Delegator-class Star Destroyer was designed to do more, with less. Using a more rounded and streamlined hull design with significant changes it had more armor, with less mass than the Imperial-class. While slightly under armed than the Imperial I it makes up for it with the use of an advanced reactor granting it high weapons damage and shield power without a bulkier reactor. A more intelligently placed series of engines gives the Delegator a higher top speed, and better manuverability than most ships its size.
It was capable of creating its own interdiction field (much like the Interdictor Cruiser but on a smaller scale), via a hidden interdictor module present towards the aft of the vessel. This meant that the normally seen bulge of the Immobilizer 418, is missing from this craft. Due to this however the field was equally smaller, roughly half that of the standard Immobilizer, but it also drew much less power allowing it to act as an interdictor and combat destroyer simultaneously.
When the class was first commissioned they were painted in the same off-white grey colouration of standard Imperial ships. But as time wore on a black radiation absorbing paint began to become the standard, much like the first Bellator-class Star Battlecruiser Spirit of Eshan. This added to the ships stealth but only marginally as, like the Bellator, it was just to large to miss after a high power scan.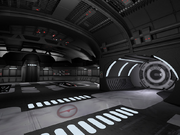 Ad blocker interference detected!
Wikia is a free-to-use site that makes money from advertising. We have a modified experience for viewers using ad blockers

Wikia is not accessible if you've made further modifications. Remove the custom ad blocker rule(s) and the page will load as expected.