I'm still working on it!


The author of this article will soon improve this article, or is doing it now.
He/she does not need new ideas at the moment, but expect to see improvement here soon. Check the article's talk page for the author's plans.
The Esme
Production information
Manufacturer

Baudo

Class

Star Yacht

Modified by
Technical specifications
Modified systems
Length

32 meters

Maximum acceleration

7 MGLT/s

MGLT

120MGLT

Maximum speed (atmosphere)

1,200kp/h

Hyperdrive rating

Class 1

Shielding

180 SBD

Hull

90RU

Armament

2 Laser cannons
1 Ion Cannon pop-up turret

Crew

1-3

Minimum crew

1

Passengers

8

Cargo capacity

35 metric tonnes

Consumables

4 months

Other systems

Advanced Holocomm/holonet Transeiver

Usage
Role(s)

Personal Ship

Commissioned

122aby

Earliest sighting

122aby

Retired

127aby (reactivated 132aby)

Affiliation
Fleet

Templar Navy

Taskforce
Known owner(s)
Crewmembers
Commander(s)
The Esme was a Baudo-class Yacht Owned by Vincent Mikaru. It was his first ship, and he continued to use it from 122aby till 128aby when it was badly damaged. A year later, when it was repaired he continued to use it as his personal shuttle and transport when another ship wasn't called for.
When Vincent turned 16 in the year 122aby he purchased a Baudo Class Yacht, customized with a few additional creature comforts. When the ship was delivered he Registered it as The Esme, naming it after his little sister.
Retirement
Edit
In 136ABY, after Vincent had been Kage for a year, the Esme was finally retired. In its place a custom ship was built, with Vincent having both TTI and his own families Mikaru Shipwrights aid in its construction. In 137ABY the ship was completed, and named The Talora after his recently born daughter. in 140ABY the Esme was transfered to Remsi Prime where it was placed in the Ship section of the Museum of Harmony.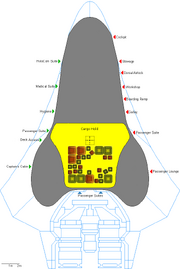 Ad blocker interference detected!
Wikia is a free-to-use site that makes money from advertising. We have a modified experience for viewers using ad blockers

Wikia is not accessible if you've made further modifications. Remove the custom ad blocker rule(s) and the page will load as expected.