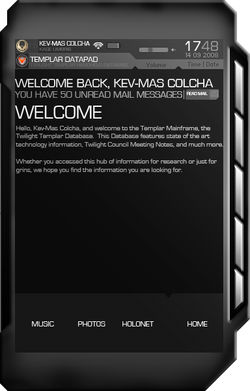 The Remsian Datapad was the standard datapad of the Remsian Republic and forces within it. It featured an interactive colour touch screen, touch pad, high volume speakers, holodisplay, stylus and headphone inputs. It accepted most forms of Datacards and Datarods and could hold a large amount of Data. Vincent Mikaru had a collection of Datapads on various Remsian ships, such as the Templar-class Star Destroyer.
Functions
Read Mail
Take and View Photos
Access the Holonet
Take and View Video Playback
Audio Playback
Keep and view schedules
Access the Templar mainframe
Interact with AIs

Display an AI with holodisplays
Accessories & Hardware
Camera

Capable of Still and Video

HoloComm Transceiver
Holographic Emitter Display
Stylus
Speakers
Wireless connectors
Interactive Colour touch screen
Access ports for various Data holding devices
Ad blocker interference detected!
Wikia is a free-to-use site that makes money from advertising. We have a modified experience for viewers using ad blockers

Wikia is not accessible if you've made further modifications. Remove the custom ad blocker rule(s) and the page will load as expected.