Memento Mori
Production information
Manufacturer
Class

Modified Aesir-class Destroyer

Modified by
Technical specifications
Modified systems
Length

800m

Maximum acceleration

2g

Maximum speed (atmosphere)

200kph

Engine unit(s)
Hyperdrive rating

Class 1.0

Power plant
Shielding
Hull
Sensor systems

Equipped

Targeting systems

Equipped

Navigation system

Equipped

Avionics

Equipped

Countermeasures

ECM/ECCM

Armament

Memento Mori type Neutron Cannon (1)
Heavy Laser Cannons (24)
Missile Tubes (4)

Crew

1,500

Minimum crew

150

Passengers

10

Cargo capacity

1,000 tonnes

Consumables

1 year

Other systems

Reinforced power systems
Cooling systems
Cooling shunts

Usage
Role(s)

"Superweapon"

Commissioned

70ABY

Earliest sighting

100ABY

Affiliation
The Memento Mori was a one of a kind weapons ship built on the chassis of a Aesir-class Destroyer. Considered to be the closest thing to a Superweapon the Templars had. It was hoped that its sight on the battlefield and the shear level of power the thing gave off on sensors would be enough to make enemies retreat. The main weapon of the Memento Mori was a purpose built Neutron Cannon that the ship was basically built around. Four times the length of a normal neutron cannon and with much more power it was capable in a single shot to a planet surface of creating a 200 kilometer wide crater.
The power of the weapon was so great that when the ship was first built and its cannon test fired it overloaded the QuadFusion reactors powering the ship causing the ship to go dead in space. This required the entire weapons system to be overhauled, and a dedicated reactor for the weapon. After the refit, and repairs, the ship was tested again, now with a reinforced power transfer system, cooling systems, and a X-34 Matter-Antimatter Reactor that would be brought online to power the main weapon. The second tests were much more successful even though the weapon still strained the reactor to the point where it needed to shutdown for it to cool down and for the weapon to cool down, a 10 minute process.
For other power systems it had 2 Quad Fusion reactors, one for shields and weapons, and the second for other systems. For defense it has 24 Heavy Laser Cannons, reinforced Durasteel-Titanium-A Armor, and Dragon Mail Shielding. While no more powerful any other ship of its size and class in regards to normal weaponry, its main cannon classifies it as a mini-superweapon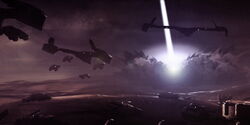 Ad blocker interference detected!
Wikia is a free-to-use site that makes money from advertising. We have a modified experience for viewers using ad blockers

Wikia is not accessible if you've made further modifications. Remove the custom ad blocker rule(s) and the page will load as expected.