Majestic-class Star Defender
Production information
Manufacturer

Zonama Sekot

Product line

Star Defender

Model

Majestic

Class

Star Cruiser

Technical specifications
Length

600m

Maximum acceleration

5mglt/s

MGLT

90mglt

Maximum speed (atmosphere)

600kp/h

Engine unit(s)
Hyperdrive rating

Class 1

Shielding

Equiped

Hull

Regenerating Bio Organic hull

Sensor systems

equipped

Targeting systems

equipped

Navigation system

equipped

Avionics

equipped

Countermeasures

ECM/ECCM
Sensor Masks
2 x High Rotational CWIS Dual ACP Cannon

Armament
Complement
Crew

45,000

Minimum crew

14,000

Passengers

40

Cargo capacity

high

Consumables

high

Other systems

Finch-class Secrecy Projector Bio-Regenerative Sequencers

Usage
Role(s)

Cruiser
Heavy Interceptor
Picket Ship
Command Ship
light carrier

Era(s)

Legacy

Affiliation
The majestic-class was the first ship every made for the Templars by Sekot and is among the Templars favorites. Vincent Mikaru personally claims one as his own Command Ship. It was very fast for its size due to its Gravitic Drives and was known for looking like an incredibly larger version of the Blue Stars Final Form. This ship featured Inorganic technology most importantly of which was its 'Bio-Regenerative Sequencers' that let the ship live far longer than any other. the Estimated life of a Majestic was 1000 years or more for military service, and then retirement.
These ships were actually living entities that think and learn and adapt from experience. After several years of service no two Sekotian Ships are the same. Being extremely adaptable, the organic armor was extremely resilient, Being able to repair itself of almost any "wound", it will adapt itself to weapon fire that it had encountered previously; no weapon will ever affect it the same way twice.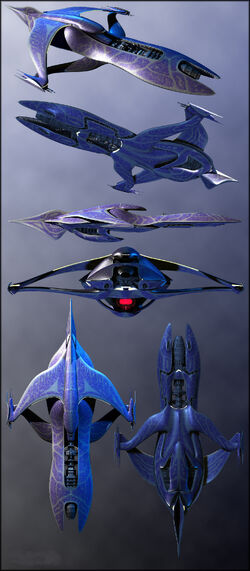 Ad blocker interference detected!
Wikia is a free-to-use site that makes money from advertising. We have a modified experience for viewers using ad blockers

Wikia is not accessible if you've made further modifications. Remove the custom ad blocker rule(s) and the page will load as expected.