Igelstellung
Production information
Manufacturer
Model

Igelstellung

Type
Technical specifications
Size

varies

Range

Max intercept range of 150,000km

Usage
Era(s)
Affiliation
[Source]
The Igelstellung type Defense Grid System was a Photonic Weapon system. Utilizing advanced computer tracking systems, and power distribution systems the Igelstellung is capable of developing a 'class 1 defense screen'. A class 1 Defense screen is capable of tracking and engaging incoming projectiles, fighters and capable of damaging larger craft at range. The standard range of the Igelstellung was under 200 kilometers but they could engage larger targets up to 150,000km at a far hindered accuracy.
The Mark-I was the first form of the Igelstellung and the most widely used. Consisting of twin turrets with four barrels per unit, a single Mark-I was capable of tracking and engaging two targets at once.
The Mark-II was the second form, and was normally placed around command stations. It consisted of four targets with two electromagnetic capacitors granting it, once its started firing, the ability to fire a round every 20 milliseconds.
The Mark-III was the buster variant, capable of firing a round from each barrel twice a second. Each round was roughly half the power of a Turbolaser and exploded on impact with an ionized discharge.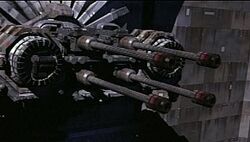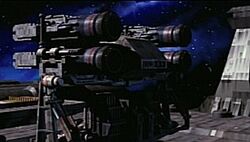 Ad blocker interference detected!
Wikia is a free-to-use site that makes money from advertising. We have a modified experience for viewers using ad blockers

Wikia is not accessible if you've made further modifications. Remove the custom ad blocker rule(s) and the page will load as expected.