Guardian Dropship
Production information
Manufacturer
Model

Guardian

Class

Dropship/Gunship

Technical specifications
Length

20m

Width

50m

Height/depth

10m

Maximum acceleration

1,000g

MGLT

70mglt

Maximum speed (atmosphere)

1,200kph

Engine unit(s)

Thrust Vectoring Ion Engines (2) Turbine Engines (2) VTOL Thrusters (4)

Hyperdrive rating

Emergency Class 10

Hyperdrive system
Power plant

Compact Fusion Reactor

Shielding

Equipped

Hull
Sensor systems

Equipped

Targeting systems

Equipped

Navigation system

Equipped

Avionics

Equipped

Countermeasures

Chaff/Flare Launchers

Armament

Laser Cannons (4)

Complement

Predator Droid Tanks (4)
or
Similar Sized Vehicles (4)
and
Speeder Bikes (8)
or
Landspeeders (2)

Crew

4

Passengers

24 troops

Cargo capacity

4 tonnes

Consumables

1 month

Usage
Role(s)

Dropship
Gunship
Troopship
Vehicle Transport

Era(s)
The Guardian Dropship was a heavy class of gunship produced by the Mikaru Corporation. It was designed to be a heavy transport, capable of operating, simultaneously as a Gunship, Heavy Dropship, and Vehicle Transport. The inside of the ship, could carry 24 personnel, their equipment, Armor, Weapons, and ammo. It could also carry in its hold either 8 speeder bikes, or two landspeeders. On its external wings, it could carry 4 tanks, though it was designed to carry 4 Predator Droid Tanks. It could deploy these tanks while moving allowing their light repulsor systems to descend them to the ground.

The sides of the gunship were lined with 2 laser cannons each, allowing it to act as a gun platform in the air. In standard operation a Guardian would 'orbit' its target and fire down its target with its four cannons. A variant of the Guardian called the AC version, had an additional turbolaser mounted on the starboard side between the two laser cannons. This removed its ability to carry tanks on that side but increased its offensive punch exponentially. The average Guardian sold for 75,000 credits, 130,000 credits with an upgraded shield system, and enhanced laser cannons, and 200,000 credits for the AC model.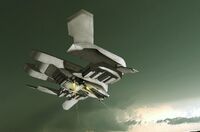 Ad blocker interference detected!
Wikia is a free-to-use site that makes money from advertising. We have a modified experience for viewers using ad blockers

Wikia is not accessible if you've made further modifications. Remove the custom ad blocker rule(s) and the page will load as expected.