Gehenna Minor
Astrographical
System
Suns
Orbital position

First

Moons

None

Rotation period

48

Orbital period

543

Physical
Class

Terestrial

Diameter

2700km

Atmosphere

Thin Breathable

Climate

Arctic

Gravity

Low

Primary terrain

Tundra

Surface water

30% (frozen)

Points of interest
Societal
Native species

None

Immigrated species

Templars

Official language
Population

7,000

Major cities

Gehenna Mining Colony

Major exports

Various Ores

Affiliation
Gehenna Minor was a Templar Mining planet. The planet was frigid with a thin atmosphere. Though breathable, the climate was so frigid that it was required to wear very thick heavy clothing and a breath mask, Exoskeleton, or an Environmental Suit. The planet was rich in Aluminum, Agrinium, Carbon. The planet even had a small but rich vein of Cortosis. The Planet housed the Gehenna Mining Colony and the Gehenna Minor Research Station. The Mining Colony obviously mined, the Research Station studied the Ice of the planet to learn the history of the system.
From orbit the planet has 'lines' all over the surface. These are mostly transfer tracks but a good deal of them are 'mass tracks' Tracks that have dozens of mobile Mass Drivers on them. The Mass Drivers are used to destroy larger rocks before they impact on the planet. Its thin atmosphere doesn't protect it from large rocks and it being in the center of an Asteroid field doesn't help very much.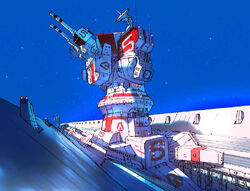 Ad blocker interference detected!
Wikia is a free-to-use site that makes money from advertising. We have a modified experience for viewers using ad blockers

Wikia is not accessible if you've made further modifications. Remove the custom ad blocker rule(s) and the page will load as expected.