I'm still working on it!


The author of this article will soon improve this article, or is doing it now.
He/she does not need new ideas at the moment, but expect to see improvement here soon. Check the article's talk page for the author's plans.
Don't Edit This Article!


The author of this article has specific ideas for this article and would appreciate it if no one edited it any farther.
He/she does not need new ideas at the moment, but expect to see improvement here soon. Check the article's talk page for the author's plans.
Evening Star
Production information
Manufacturer
Class

Personal Starfighter

Modified by
Technical specifications
Modified systems

Shields
Powerplant
Weapons
Docking systems

Length
MGLT

180MGLT

Maximum speed (atmosphere)

7,000kp/h

Engine unit(s)

Twin-Ion Engine (modified)

Hyperdrive rating

Class 1

Hyperdrive system

Military-grade hyperdrive motivator (modified by Kev-Mas and Vincent)

Power plant

Fusion Reactor

Shielding

KDY military-grade shield generators

Hull

Armored non-reflective hull

Sensor systems

Advanced sensor suite with visual scanners

Targeting systems

Equipped

Navigation system

Equipped

Avionics

Equipped

Countermeasures

Sensor jammer
False identification transponder
Sensor decoys cloaking device

Armament

Twin Laser Cannons
Twin Ion Cannons
Energy Torpedo Launcher

Crew
Cargo capacity

2 tonnes

Consumables

20 Days

Other systems
Usage
Role(s)

Personal Starship
Blockade Runner

Commissioned

118ABY

Destroyed

Crippled at Battle of Utapau 128ABY Refitted afterwards

Affiliation
Fleet
Taskforce
Known owner(s)

Vincent Mikaru

Commander(s)

Vincent Mikaru
The Evening Star was Vincent Mikaru's Ship during the Sith-Imperial War until he acquired the Ivory Dagger. Being of Vincent's own design, he managed to acquire it for free, the modifications there off however, were not. In the end, the Evening Star cause as much as a normal Eta-12 Epsilon Light Interceptor would have, while bing so modified that it would have sold for over 200,000 credits. The most prized feature of the ship was the N.A.M. system (Networked Assault Module system) which allowed it to remotely control other units. This was put to excellent use in joint operations with the Eternal Twilight.
One of the more interesting features of the Evening Star was that the Pilot, generally Vincent himself, sat in a Spherical cockpit located in but isolated from the rest of the main cockpit.
Two hand joysticks for main piloting control.
Two hand controls for controlling independently the maneuvering thrusters.

right controls Port/Starboard/Stem/Stern thrusters
Left Fore/Aft Thrusters

Two Foot pedal for controlling the out put of both Engines Independently.
A keyboard to manually input commands and alter computer coding in real time, as well as text based in ship/in fleet communication under secure channels
360 Degree display due to 3 high detail screens and a holographic display. (has been known to cause Vertigo to those not used to it)
6 Additional smaller monitors that display system data

Engine Status
Life Support
Communications
Computer Data Readout
Weapons Status
Navigation

3 Over head Monitors that display 3 of the many external cameras
Targeting computer for firing the missile Weapons inboard.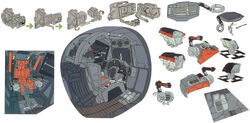 Ad blocker interference detected!
Wikia is a free-to-use site that makes money from advertising. We have a modified experience for viewers using ad blockers

Wikia is not accessible if you've made further modifications. Remove the custom ad blocker rule(s) and the page will load as expected.