Crimson Dagger
Talk

0
861pages on
this wiki
Crimson Dagger
Production information
Manufacturer
Class
Modified by
Technical specifications
Modified systems

All systems

Length

5.47 meters

Width

Flight Mode: 4.3 meters
Attack Mode: 4.8 Meters

Height/depth

2.5 meters

Maximum acceleration

5,500 G

MGLT

120 MGLT

180 with boosters activated

Maximum speed (atmosphere)

13,000 km/h

Engine unit(s)
Hyperdrive rating

Class 1.0

Hyperdrive range

50,000 lightyears/jump

Hyperdrive system
Power plant

After Vindicator Refit

Shielding

After Vindicator Refit

Hull

After Vindicator Refit

Sensor systems

Equipped

Targeting systems

Equipped

Navigation system

10-jump memory

Avionics

Equipped

Countermeasures
Armament

After Vindicator Refit

Crew
Passengers

none

Cargo capacity

60 kilograms

Consumables

1 week

Life support

Atmospheric recycling system
Pilot suit linking system

Communication systems

TemplarNet Transponder/Transceiver

Other systems
Usage
Role(s)

Patrol
Reconnaissance
Assault

Commissioned

20 BBY

Earliest sighting

20 BBY

Present for battles/events
Affiliation
Fleet
Taskforce
Known owner(s)
Crewmembers

After Vindicator Refit

Commander(s)

Hyperspace Ring
Production information
Manufacturer
Model

X-45

Class

Hyperdrive Ring

Technical specifications
Length

10m

Width

20m

Height/depth

20m

MGLT

120mglt

Engine unit(s)
Hyperdrive rating

Class 1.0 through 0.8

Hyperdrive system

X-45 Hyperdrive System

Power plant
Shielding
Hull
Navigation system

Equipped

Avionics

Equipped

Armament

Laser Cannons (2)

Usage
Year introduced

100 ABY

Role(s)

Hyperdrive Booster

Era(s)
Affiliation

Crimson Dagger

The Crimson Dagger, was a custom built starfighter based on the Eta-2, called the Eta-2.5 Aeternus interceptor. After nearly 100 years the ship was refit into a custom variant of the Vindicator-class. Built specifically for Kev-Mas Colcha when he was a Jedi Knight of the Old Republic and was eventually used by his Descendant of the same name. Its seen many battles in its years, several paint jobs and 2 refits as well.
The Crimson Dagger began its life as a standard Eta-2, assigned to Kev-Mas by the Jedi Order. Before the Jedi Purge happened, it was hidden in a cave on Kashyyyk by Kev-Mas, who then recovered it after pledging alliegiance to Emperor Palpatine, and becoming an Emperor's Shadow Guard.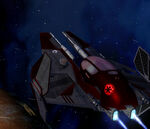 After Kev-Mas started the Pirates of the Twilight in 10 ABY, he made several modifications to the fighter, making it the prototype for the Eta-2.5.
Vindicator Refit
Edit
Long after Kev-Mas Colcha, in the hands of his grandson, Leonias Colcha in 95 ABY, the ship was refitted into a custom variant of the Vindicator-class. Being of a much more streamlined design than the previous refit it was capable of much higher speeds in atmospheric conditions, and the newer S-foil arrangement allowed for a something known as 'slipstreaming.'
When the foils are closed, it creates a slipstream effect around the Crimson Dagger pushing the air out of the fighters way before it actually touches it allowing it to reach much higher speeds. And When the S-foils open, it increases air resistance allowing for higher mobility in dogfights.
During Vacuum operations, when the S-foils are closed the unit can obtain its top-speed of 180mglt while boosting. While the S-foils are closed however only the forward mounted laser cannons can operate because the other weapons could risk damaging the ship at top speed. With the S-foils open more maneuvering thrusters are exposed allowing for better maneuverability but inhibiting maximum burn potential.
The QuadFusion Reactor equipped to the Crimson Dagger was an experimental model. It was roughly 75% larger than a standard starfighter reactor, and operated at a state of controlled overload in combat situations. This was needed in order for the Crimson Dagger to operate for extended periods of time (up to 1 week), due to the extensive weapons systems onboard. This came at a downside though, the ships power signature during combat was that of ship 5 times its size. Any military grade sensor system, would be able to track the Crimson Dagger while the ship operated at its full potential.