All Under Heaven
Production information
Manufacturer
Class

Heavily Modified YT-2550

Modified by
Technical specifications
Modified systems

HyperComm Transceiver
Subpsace Transceiver
Radio Transceiver
Observational Scanners
Camera Systems

Length

70m

MGLT

60MGLT

Maximum speed (atmosphere)

800mp/h

Hyperdrive rating

Class 1

Hyperdrive system
Shielding
Hull
Sensor systems

Equipped

Targeting systems

Equipped

Navigation system

Equipped

Countermeasures
Armament

Defense Laser Turrets (4)

Complement

N/A

Crew

12

Minimum crew

6

Passengers

Eta-2.5 Aeternus-class heavy interceptor (2)

Cargo capacity

80 metric tons

Consumables

1 month

Other systems

HyperComm Relays (4)
Subspace Relays (4)

Usage
Role(s)

ECM/ECCM Ship
Communications Relay

Fleet
Taskforce

Sekotan Defense Force
The All Under Heaven was a Templar Ship assigned to Sekot to act in placement of a Stealth Tactical Aerial Reconnaissance Satellite since any satellite in orbit of Sekot would be lost or destroyed when the planet entered hyperspace.
The ship was originally a stock YT-2550 when the Templars got it from a Scrap Yard. The modifications consisted of a massive ascetic hull replacement, more than tripling the hull thickness, adding Ablative Hull Armor and on the outer layer Stealth Ablative Coating along with Dragon Mail Shielding. The converting of the two dual laser turrets into four separate defense lasers. Removing the standard reactor and adding in 6 QuadFusion Reactors to power the Hyperdrive, Shields, sublight engines and the massive array of communications and observations gear. And finally the ship had 4 HyperComm Relays and 4 Subspace Relays installed, a series of transceivers for various communications forms, along with several forms of sensors and scanners to allow for the ship to operate like a massive STARS.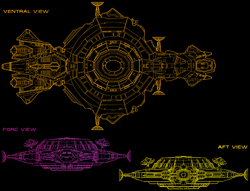 Behind the Scenes
Edit
The name All Under Heaven has two meanings.
The Ship sits in orbit of Sekot and transmits information down to the planet it is in 'Heaven' and broadcasting to those 'Under' it.
The ship is also named after the UNSC All Under Heaven from the Halo Universe.
Ad blocker interference detected!
Wikia is a free-to-use site that makes money from advertising. We have a modified experience for viewers using ad blockers

Wikia is not accessible if you've made further modifications. Remove the custom ad blocker rule(s) and the page will load as expected.